---
---
Little Red Schoolhouse
73 South Professor, 1837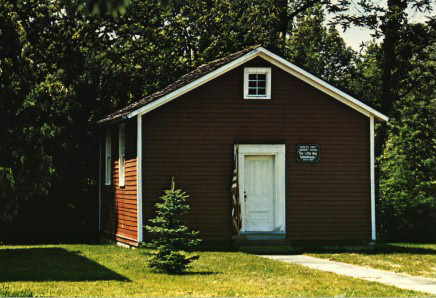 (image courtesy of Oberlin Historical and Improvement Organization)

Oberlin's oldest building, the only one known to survive from the colony's first decade, is also its most mobile, having occupied four different locations since it was built in 1837. Restoration to something like its original appearance was mainly the work of businessman Clifford Barden. He saved the building from demolition in 1958, and with the help of many community friends recreated Oberlin's Original Schoolhouse, now painted red.
In January 1835 the Oberlin Society, the town's first government, appointed a committee of three prominent colonists, Nathan Fletcher, William Hosford, and Brewster Pelton, to "consider the subject of building a school house." Fifteen months later the society authorized raising $200 for a wood frame building 20 by 24 feet, one story high, with a stone foundation. It went up near the corner of North Main and Lorain Streets, on the site of the present annex to First Church. It was too small for the local school population from the outset, and in 1851 a larger public school was built on college land just north of the present King Building. That school in turn was succeeded by the big new Union School House (Westervelt Hall) on South Main Street in 1874.
Meanwhile, the original schoolhouse had made its first migration, down Main Street to a site next to the present police station. Elizur Leonard had bought it, and turned it into a home for his sister. Later it served as a tailor shop, and after that as a home again, with additions front and rear.
When the city prepared to remove it as an eye-sore in 1958, Cliff Barden launched his campaign for restoration. This required its next journey, to the hill overlooking Plum Creek on East Vine Street, perhaps the best location it ever enjoyed.
In 1968 the Oberlin Historical and Improvement Organization decided on yet another move to relocate the schoolhouse next to the Shurtleff-Monroe House south of the new Conservatory of Music. Tucked in along the conservatory parking lot, as part of the small historic strip development, the Little Red Schoolhouse is now an O.H.I.O. museum, filled with varied relics of nineteenth-century public education. It serves as a trim reminder of Oberlin's original simplicity, and the perils of preservation.
(Blodgett 56-57)
Please visit the Oberlin Historical and Improvement Organization's tour information page for tour information about the Little Red Schoolhouse and the organization's other historic sites.
---

Click here to return to the main page of "Historic Preservation in Oberlin".
---
---