---
---
Union School
(now New Union Center for the Arts) 39 South Main, 1874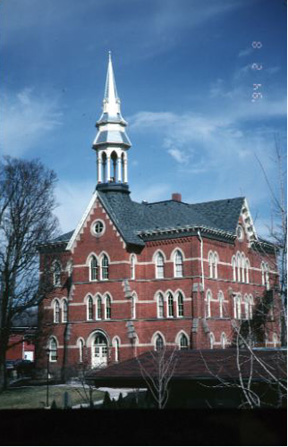 Built in 1874, this rugged relic of the Gilded Age entered its second century empty and vulnerable. But in the early 1980s it made a rousing comeback as an emblem of sesquicentennial pride.
In its heyday it housed 700 school children. Its construction was a response to overcrowding in the local schools as public education took off after the Civil War. Cleveland architect Walter Blythe provided the plans, calling for a Victorican Gothic monument in red brick, trimmed with sandstone to create a polychromatic effect originally dramatized by a brightly tiled roof. John Berg, a young Bavarain immigrant stone-mason, supervised construction by local craftsmen, and Lester Kinney supplied the brick from his Plum Creek kilns. The open bell tower crowning the design weakened over the decades and was taken down in 1940.
After a more modern high school (now the Langston middle school) opened on North Main in 1923, Edmund Westervelt bought the old schoolhouse and gave it to the college, which used it for classes till 1961. Then the long campaign to save it got underway.
Imposing, cavernous, and gritty, the building challenged conventional modern taste and irritated downtown commerical developers. In line with the urban renewal thinking of the early 1960s, one consultant briskly advised: "raze the present structure and... use the parcel for a gasoline service station." Ideas for a kinder fate, including adapting reuse as a city hall or a combination of shops and apartments, attracted wide support but little money. In 1974 the building was placed on the National Register. But as late as 1981 the town paper called for the demolition of "that moldering eyesore."
Then contractor Kenny Clark, who had bought it in 1977, settled the debate by launching his renovation. The town sesquicentennial committee used it for a headquarters in 1983, and "Old Westervelt" began a bright if uncertain new career.
(Blodgett 108-109)
Since the publication of the above information, Westervelt Hall has undergone major renovations and is now the Union Center for the Arts. The bell tower was restored to the building in March 1997. For more information, please click here.
---

Click here to return to the main page of "Historic Preservation in Oberlin".
---
---