---
---
Drake House
237 West College, 1874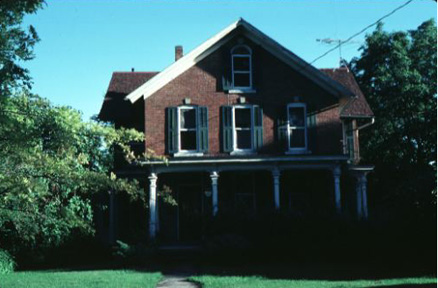 George Drake was the sort of man that early Oberlin produced in droves. He came here from New Jersey in 1838 to begin his schooling at age 20. The colony was still emerging from the woods when he arrived, and he put his skill in masonry right to work at 10 cents an hour. Converted by the preaching of Oberlin's first president, Asa Mahan, he entered the college, thrived on Graham dieting, helped build First Church, and graduated in 1843. Next he prepared for missionary work at the theological seminary and the Western Reserve medical school. He wanted to go to Africa, but apparently the prejudice in conventional missionary circles against radical Oberlin Perfectionism blunted that desire. He went to preach in Iowa instead. Two decades later he returned to Oberlin with his wife Laura (an Oberlin graduate of 1846) to educate their children.
In 1874 he put up this nicely crafted red brick house. The porches were added four years later. In 1883 Drake left town for a final stint of missionary work in the Dakota Territory. He died in Michigan in 1909.
Shortly before World War I, the Woodruff family acquired the house, and for 20 years Althea Woodruff ran one of the most attractive college rooming houses in town -- 'Mrs. Woody's.' Then it became the home of Professor and Mrs. Herbert May. May, a noted biblical scholar, taught at Oberlin from 1934 to 1970. Five years later, William and Nancy Holodnick took possession and set to work restoring the interior. They also installed the handmade leaded glass lunette at the apex of the gable facing the street.
(Blodgett 110-11)
---

Click here to return to the main page of "Historic Preservation in Oberlin".
---
---