End of All-Male Dorm Sparks Vandalism
BY LINNEA BUTTERFIELD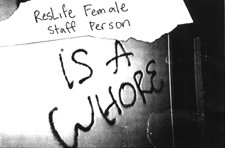 In what seemed like a last attempt to demonstrate against Residential Life andService's decision last Thursday to turn Zechiel Hall, an all-male, predominantly athletic residence hall on north campus into a co-ed residence hall by next year, vandals caused destruction throughout the building. The vandalism occurred throughout the weekend.
According to Security Director Robert Jones, no final estimate of damages has been given yet.
The damage consists of torn up ceiling tiles, broken light fixtures and graffiti. Repairs began immediately on broken emergency lighting. The graffiti written included Zeke (written ZKE in imitation Greek letters) with the sign for male beside it, comments like "fuck res life" and "Donita is a whore." The staff member referred to in the graffitti declined to comment. According to Kim LaFond, director of Residential Life & Services and a liaison between administration and Zeke residents, "[The staff member] is in an administrative position. She oversees Zeke. She is doing a fine job for the students she serves and for the College as a whole. Perhaps the person(s) who did the spray painting had to focus their anger on someone and that someone was [the staff member]. [She] did not make the decision to have Zeke go co-ed. The Housing and Dining Committee made that decision."
Sandy Hougland was quoted in last week's Review, saying only 12 of 43 residents in Zeke were pleased by the present conditions. However, Richard Pierce, resident coordinator at Zeke summarized residents' responses, as he saw it, to the elimination of an all-male space on campus and said, "everyone [here] feels strongly about it."
Pierce said that the act of vandalism was a reaction of frustration. Pierce had gathered a petition of 30 names to show the administration that Zeke residents felt the need for the space. He claimed he was never told about the ResLife meeting where he would have presented it.
Dean of the College Clayton Koppes said, "The only effect of vandalism is bringing their cause to disrepute. The only consequence of vandalism is costing the college more money, which detracts from everyone."
Lafond commented on the search for the perpetrators, saying, "I do not know who did the vandalism at Zeke. We are still in the process of investigating the incident and it would be unfair for me to say that the vandalism located in the Zeke community was caused by someone who resides in Zechiel residence hall. We are taking this situation one step at time. Right now, we are still gathering information. I strongly believe that someone on this campus knows who did the vandalism. I would hope that the person(s) involved would step up and accept responsibility. The College community has suffered enough."
He added, "We are currently investigating some leads involving the incident at Zeke. We will take this investigation one step at a time. Once those involved are found, judicial action will follow. Suspension? If those involved in the Zeke vandalism were found in violation of College policies, sanctions certainly would be issued."
First-year Zeke resident Brook Whitmore was away this weekend and came home to find his hall violated. "It was pretty crazy, something definitely went down. People get rowdy sometimes," he said. Whitmore said he didn't think the problem was internal. "I definitely don't think it was someone from Zeke. I also think there's a lot of anger and animosity towards Zeke because of what's been going down recently," he said.
Dean of Students Peter Goldsmith is wary of jumping to conclusions. "We do not yet know who is responsible for the damage. It would be unfair and unreasonable at this juncture to presume that all of the residents of Zechiel participated in the damage or, for that matter, approved of it," he said, adding, "If there are misogynist messages affiliated with Zeke, as we know there are, then that community needs to consider how it reflects on all of them — regardless of whether it's warranted — and hold one another accountable."
Administrators met with Zeke residents on Sunday night to talk about alternatives. Residential Life and Services proposed theme housing, which is new to campus.
Theme housing would require a lengthy application process and an advisor.