Meeting for Muska Action Adjourned after Disruption
BY ALYSON DAME

Posters hung around campus advertised a meeting open to people upset about vandalism in Zechiel Hall — including spray-painted misogynist messages — and a recent Review article. Wednesday, a meeting called to discuss a plan of action about these recent events on campus was relocated to Wilder Main Space to hold the unexpectedly high turnout. Even this large room, however, was too small to hold the tension in the room.
Well after the meeting was concluded, emotions ran high and heated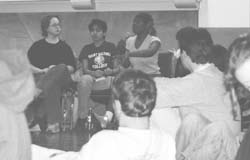 conversations spilled out of the room to fill Wilder lobby. During the meeting, racial, sexual and social tensions that exist at Oberlin College began to emerge.
10 minutes before the meeting was scheduled to begin at 10 p.m., Wilder 215 was already full. The meeting was moved to Wilder Main and students continued to pour in. There were approximately 250 people present. The audience was varied, but included an athlete represenative in from every sport. Ombudsperson Yeworkwha Belachew, Associate Dean of Students Bill Stackman, and Director of Residential Life and Services Kim LaFond were also present.
First-year Julie Dulani and sophomore Brianna Cayo-Cotter organized the meeting, and sat on chairs at the front of the room while most people sat on the floor. "First of all, Briana and I made the posters advertising the event. Neither of us did this with any affiliation to any organization," Dulani said. She asked anyone present who was not interested in discussing the set agenda to leave and two students did.
The first item on the agenda was a discussion of Athletic Director Mike Muska's column in the Feb. 23 issue of the Review. The organizers of the meeting felt that the article was wrong to compare what Muska called "sportsphobia," to institutionalized forms of discrimination such as racism. "People of color can't stop being people of color. You're always what you look like, you are because society puts you there," junior NiJa Whitson said.
Other voices in the crowd said this argument missed Muska's point. First-year Wendy Jackson was one of many students who said that to offend minorities was "not the intent of Mr. Muska's article." Muska was not present at the meeting.
The meeting continued, in the interest of time, to the next item on the agenda before all interested parties had a chance to speak. Meeting organizers were concerned that safe spaces on campus were threatened. Senior Alita Pierson disputed the idea that there needed to be a safe space on campus for white, straight men, referring to arguments made for the preservation of an all-male Zechiel Hall. "The whole world is their safe space," she said. Booing ensued, and was quickly met with cheering from an opposing faction.
Discussion relating to the agenda disintegrated soon after. Senior Ryan Catignani began to make a statement but was interrupted when his statements veered off the topic. "What these people want is a dialogue with no one on the other end of it," he said. When his microphone was turned off, shouts from the crowd said, "Follow your own rules." referring to ground rules set at the beginning of the meeting.
Whitson reclaimed the microphone. "We have already said twice today that anyone that does not agree with our viewpoints should leave. This is not an open dialogue, this is not a debate." Dulani adjourned the meeting, saying, "I am personally offended that people brought in their own agenda and did not respect ours."
Dulani said, "Any anger or frustration about people being silenced is not valid. They were not respecting the set agenda but were rather constantly trying to impose their own agenda on a meeting they didn't call. Certain people were silencing our agenda. That is the reality of the situation. Frankly I think it is ridiculous that the mentality was, 'I don't care if you're not here to debate this. I'm going to walk into this meeting and fuck the agenda. Let's talk about me.'"
Other students felt that the publication for the meeting was misleading. "I think that the way that the meeting was publicized set a real confrontational tone, I think it was a very poor springboard for their ideas," junior Zeke residential coordinator Richard Pierce said after the meeting. An e-mail, written by Pierce to Zeke residents and forwarded to the Review said, "I have been alerted to some fliers put up by WRC concerning Zeke. I cannot stress this enough, but we must be respectful [sic]. If you see anyone posting these fliers, follow them quietly and discretely and take them down. Please avoid confrontation at all costs. There is a time to confront this stuff," Pierce wrote, and went on to say that he was intending to meet with others to try and work through some of these issues.

As the attendees began to file out, Pierce took the microphone and announced another meeting among all involved parties to be held next Thursday in Zeke. Sounds of disapproval erupted at the announcement of the venue.
Later, Belachew said that a nuetral site would be selected. "We only ask that you come with the common goal of raising awarenesses," Pierce said. He later added, "I would like anyone interested to attend. And if everything goes well, I would like to work the fine line of dialogue and hopefully accomplish something. That may be an impossible task, but if we fail Thursday night, that's only a reason to schedule another meeting and try again," he said.
Dean of Students Peter Goldsmith heard about the meeting and spoke about it Thursday. "There is real empirical evidence that athletes have encountered hostility on this campus. It should not be compared with racism, sexism, homophobia or other forms of social discrimination with long histories. But as a community I think we should validate people's feelings no matter where they come from. Perhaps in the end this is a conversation about what we mean by diversity at Oberlin and whether we are really prepared to be the kind of open and inclusive community that we imagine ourselves to be," Goldsmith said.