La Cenerentola Puts Twist on Classic Tale
By Crystal Stohr

There arenít many mediums where a punch line can be repeated and still be as funny as the first time around. Opera is one of them, especially in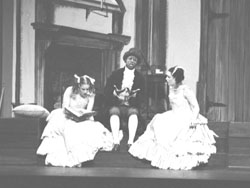 (photo by Claire-Helene Merson)
the case of Gioacchino Rossiniís comic masterpiece La Cenerentola. Not only is it a pleasant, light-hearted fare in the best of Italian opera tradition, but it serves as a virtuosic vehicle for its stars. And Oberlinís finest did not disappoint.
Written in 1817, La Cenerentola was written a year after another one of Rossiniís immensely popular comedies Il Bariere di Siviglia (The Barber of Seville). The plot of the opera is essentially the beloved Cinderella story, with a few minor modifications. The two step-sisters are alive and well, and as smug and self-admiring as ever. But instead of a mother, they have a social-climbing baron of a father, and instead of a fairy godmother coming to her rescue, Cenerentola has a kindly father-figure, an advisor to the prince. All of these roles were well-sung, and even better-acted. As the show opens, junior Ellie Dehn and sophomore Vera Savage primped and preened the audience into laughter. And when first-year Liora Grodnikaite finally opened her mouth for her first aria as la cenerentola, the audience quickly quieted and fell under the spell of her lush, full and lyrical voice.
Everyone in the opening nightís cast was strong, including the hilariously-staged male chorus who served as courtiers to the prince. However, the show-stealers were senior Kevin Moreno as Magnifico, the step-father, and senior Jonathan Stinson as Dandini, the princeís valet. Too many times a perfectly good comic opera becomes nearly ruined by badly over-done prat comedy, bordering on slap-stick. Not so in this opera. Both Moreno and Stinson knew when to ham it up and when to just stand up and sing, which they both did with bravado.
Behind every good opera is a foundation, including music direction, stage direction and last but not least, a good orchestra. All three were pretty much dead on. The orchestra got a bit excited at times, which is fine for instrumentalists, but not so comfortable for singers trying to keep up with running 16th notes. There were no major mistakes and very few noticeable minor ones, which made for more-than-decent opening night. The staging really supported the inherent comedy of the opera. Jonathan Field, veteran opera director, did a superb job of creative blocking, movement direction, and acting direction. The result was a tight, funny and well-performed show that looked as much fun to act as it was a pleasure to watch.
This Oberlin opera is one that should leave audience members eagerly anticipating the chance to see it again. Friday, cast number two takes the stage with an equally-compelling list of players. Lush-voiced senior Laurie Rubin is Cenerentola, accompanied by juniors Libby Floyd and Melanie Besner as her step-sisters, senior Peter Tantsits as the prince and junior Frederick Jackson as Dandini.