Hamburger Talks Love, Rap and Comedy

Drag City comedian Neil Hamburger, relaxing after yet another riotous performance, assented to an interview with Editor in Chief Nick Stillman. Hamburger offered his philosophy on comedy, rap music and lawyers as he reveled in cracking up the capacity crowd at the Cat in the Cream.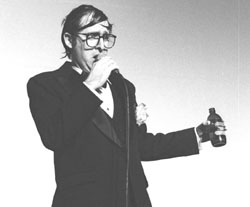 (photo by Areca Treon)

Nick Stillman: Did you think this was a tough crowd? I thought they were pretty receptive.
Neil Hamburger: Well, they're all receptive, you know? You keep doing your thing and the crowds keep loving it and it's wonderful — for the most part. Occasionally you get a few months where it's not like that.
NS: Is there a particular crowd that you remember as the most difficult?
NH: The kids at the big rock festival in Brisbane, Australia on a bill with the youth groups the Offspring and Garbage. Kids were chanting 'We hate you' my entire set. I had 24 — I counted this — 24 shoes thrown on stage in a five minute period. I don't consider that to be one of the better crowds.
NS: Have you ever been beaten up?
NH: We've had a bit of that. We don't like to dwell on that in the interviews because we like to talk about the new records and keep things positive.
NS: How are things going with your ex-wife?
NH: Well, you can't really talk about that in the interviews because some of the attorneys will get on your case and the royalties from the Raw Hamburger album are currently being diverted directly to her as a result of a couple jokes, so you don't want to have that happen with the rest of the catalog.
NS: Have you been seeing anyone recently?
NH: Well, you know, I see thousands, sometimes tens of thousands of people out in the audience every night who love and really enjoy my show.
NS: Any romantic interests?
NH: I think a lot of them are interested, yeah. You know, the stage is several feet from the crowd so it's hard to really get close to people.
NS: Do you ever get "comedian's block," like writers who get writer's block?
NH: Yeah, you get that all the time, on a nightly basis. That's when you dip into the old jokes and, you know, revive them for current times and hopefully no one notices.
NS: Which album of yours do you think is the funniest?
NH: I haven't actually heard any of the albums. Those are assembled from tapes people make from the shows. You know, probably the one that sold the most is probably the funniest one.

NS: Do you expect to use any of the footage from tonight on any of the albums?
NH: I have nothing to do with that. I mean, I suspect they probably will. They took a show in Malaysia that was a very poor show and released that as an album, you know, so I don't know. I just hope they'll send the money to the lawyers to get them off my case.
NS: How do you feel about rap music?
NH: Rap music? That's a popular thing, so they make plenty of money and the kids enjoy that and you know, I would like to get involved with something like that — personally.
NS: Was there a time when you were a child when you realized that you really wanted to be a comedian?
NH: There wasn't really any time like that.
NS: Where do you get your inspiration from?
NH: There is no inspiration, you know. You just do the best show that you can and hopefully that will work.
NS: If you're in a jam in a show, do you have a really funny joke — a real zinger that you can rely on?
NH: Pretty much any of the jokes work for that. You hope for the grade A material, you dip into the grade B and sometimes…lower, you know, if there's a problem.
NS: If you weren't doing comedy right now, what would you be doing?
NH: I could be dead. I mean, I don't know. I certainly have a lot of problems paying for the attorneys.