This Hamburger is as Funny as a Punch in the Face
by Nick Stillman

Relatively speaking, Oberlin College is a bizarre place. The biggest all-campus party dictates that students dress as members of the opposite sex, everyone tends to become much more fired up over politics than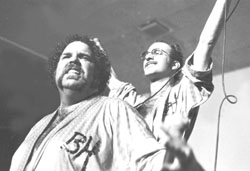 (photo by Areca Treon)
football and flamboyantly-dyed hair surprises no one around here. Still, it would have been impossible for everyone at Sunday's Neil Hamburger performance to have been prepared for the absurd antics awaiting them.
Hamburger, the enigmatic stand-up comedian who records for Drag City records, delivered a performance notable for the fact that he was legitimately funny. Not only was the crowd receptive — most of the time they were in stitches, as Hamburger's deliberately un-funny brand of humor struck a chord with the near-capacity crowd at the Cat in the Cream.
Canned Hamm, the Vancouver-based karaoke band, began the show on a riotous note. Consisting of two members — Big and Little Hamm — Canned Hamm belted out delightfully cheesy ditties with the help of a cheap-sounding beatbox and some catchy synth notes. While the songs themselves were consistently hilarious, the funniest parts of the show came when Big and Little Hamm left the stage to accost the audience.
During "Bubble Bath" Little Hamm left his post onstage to stand uncomfortably close to select audience members as he sang his part. While the unfortunate few were left squirming as Little Hamm pressed as close as he could, the rest of the audience rumbled with uncontrollable laughter.
Canned Hamm received the biggest hand from the audience when they announced it was the burlesque part of the show and proceeded to remove all articles of clothing save a pair of scanty boxer shorts. Another awe-inspiring highlight came during "Ringing the Bells of Sex" — each band member marched through the audience mid-song in search of females willing to relinquish their underwear. None cooperated.
Although Canned Hamm provided a nearly impossible act to follow, Hamburger came through admirably. Strikingly dressed in black and stricken with a terrible coughing problem throughout, Hamburger began the show with an uncomfortably long moment of silence in honor of the late actor Walter Mattheu. Amidst the ubiquitous throat-clearing — always directed into the microphone— Hamburger periodically produced a crumpled piece of paper from his pocket in search of material. For once, he found it.
Even when his punchlines failed, Hamburger recovered easily. After a failed Brittany Spears joke, he paused and asked, "Could this be a generation gap?" As fast as he had lost them, Hamburger had won the crowd over. In fact, the crowd seemed to delight in Hamburger's terrible jokes, at times weakening the impact of his performance, which often consists of long silences from baffled audiences. After the show Hamburger said, "This is a wonderful career I've had. All the crowds are great." (For a full transcript of an interview with Neil Hamburger see page 14.)
Hamburger seemed to lose his cool momentarily when senior Dave Reminick loudly requested "The Zipper Schtick," an act from Hamburger's album America's Funnyman. "I'm gonna tell the jokes when I want to tell them," Hamburger yelled, ultimately calling Reminick a "zipper prick."
One of Hamburger's themes was a series of biblically-oriented jokes. "Why did God create the Red Hot Chili Peppers?" one began. When the crowd collectively shrugged, he answered, "To help boost the sales of heroin." When some of his Christ jokes became pornographic in nature, he justified it, saying, "This is sort of a young crowd and this sort of thing seems to be popular." Ultimately, Hamburger compared himself to Christ, saying Christ was the son of a Jewish carpenter and that a Jewish carpenter had slept with his ex-wife six months after they had been married.
Hamburger's encore act revolved entirely around Red Hot Chili Peppers vocalist Anthony Kiedis. The joke built for several minutes, as Hamburger detailed Keidis' unsuccessful trips to a Los Angeles bar in search of heroin. To the crowd's delight, the joke ended with a halfhearted punchline, as Hamburger himself seemed bored with the lengthy piece.
Although it was disappointing that the audience didn't allow Hamburger to struggle a bit more when his material took a turn for the un-funny, the show will doubtlessly become a legend in the recent history of obscure and occasionally excellent indie performances at Oberlin College.