Art Library Exhibit Provides Different View of Books
by Jessica Rosenberg

As a fan of books in their everyday incarnation, I was fascinated by the possibilites of the Clarence Ward Art Library's latest exhibition. A series of glass cases display works from the "Reimagining the Book" class, in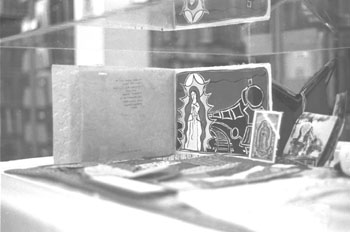 (photo by Kate Silverman)
which students challenge traditional notions of what a book's form and purpose can be.
One of the pieces that is immediately striking is senior Anne Slattery's untitled work in stone. It looms over the rest of the works, solid and immovable. Four stone slabs are piled in pyramid form, held apart by small circular stones. In between, the slabs are silkscreened versions of the Lord's Prayer. The piece conveys an ancient, permanent form of communication, playing with the notions of "written in stone." Slattery's piece does an excellent job of making the viewer think about what it meant and means to be a book.
If the exhibition were purely aesthetic, senior Julia Rosenberg's untitled piece would carry away honors for its beauty and coherence. The piece is a montage of non-traditional book forms that carry meaning. There is a totem pole of sorts; a set of tablets, formed into a Jacob's Ladder with hands on them and some linked tiles, flowing out of an open wooden box. The elements are physically separated but visually tied by uses of vibrant color. The totem pole in particular invites further study through its combination of deftly carved night imagery — stars and moon, window and tree, blue and black — with other symbols like a spool of thread. An open book in front of it echoes the night landscape in a textured, chalky white on black.
Rosenberg is also responsible for "The Immense Journey/No-Excuse Bread," which at first seems to follow book conventions, but upon closer examination reveals a complicated melding of text, form and artistry. The piece is in the shape of a blue book opened to reveal on one page a handwritten poem about bread, then a facing page held straight and made up of a delicately whirled metal hand, followed by another page of a similar design. The message seems to be one of tactile reality, reinforced by the title.
That tactile quality becomes even more overt in junior Rosalie Fanshel's "Three Visions," one of the largest, fullest works. Her book also involves hands, in this case a pair of open palms, upon which is a scrap of paper detailing the nature of a vision of the Virgin Mary. Mary is the piece's recurrent image, and this theme is repeated in a pop-art book illustration of Mary and a train, a drawing of a train and a card depicting Mary, all of which rest upon a collection of scraps of fabric sewn into a patchwork quilt. A photo portrays the artist wearing the quilt in a Mary-like attitude.
There is also a pencil drawing of Mary surrounded by a red flame, perhaps invoking vision. It is hard to absorb the piece's barrage of elements, but when each element is examined separately its place in the larger whole becomes clear and the piece is more easily understood.
Some pieces, like junior Emma Ramstad's "Everyone is An Artist," a children's picture book, and senior Rebeca Krones' "Bridges: A Meditation on Community" serve pedagogical purposes. Krones makes imaginative use of smooth colored stones, bright metal, text and photos of the Golden Gate Bridge in her search for community. Junior Amy Greco's "The Gray Coat," creates a whimsical story through a cut-up coat which serves as a pouch for French memories, an airmail letter. Several of the artists also used either the Jacob's Ladder concept or a book that folds out and can be read on both sides and in either direction. And, interestingly, most of the artists chose to include some version of the traditional book in their pieces.
This is not an exhibition to breeze through. All of the pieces have merit in a quick glance, but they are thought-provoking and require attention and reflection. While they don't all get the viewer to re-think her notion of the book per se, they do make one consider the many ways a vision can be communicated and just how talented student artists at Oberlin really are.