In the Interest of Teenagers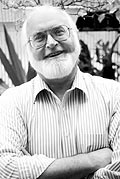 The idea came to him at 4:30 a.m. Former English professor
Don Gallo '61
, an authority on books for young adults, awoke suddenly, envisioning a resource that would offer information about contemporary authors who write for teenagers.
He rejected his first idea--published interviews with these writers--believing that the multiple volumes required for such a project wouldn't hold much appeal for teen readers. A better medium was the web. So agreed Lynn Malloy and Beth Dufford of the Greenwood Publishing Group, and Authors4Teens.com was born. Today the Gallo-created site hosts interviews with 24 of the best writers for young adults, including National Book Award nominee Laurie Halse Anderson and Newbery Award winner Jerry Spinelli. Surfers can read author biographies (want to know how novelist Chris Crutcher lost his teeth?) or follow sound and photo links for in-depth information on the topics, places, and ideas discussed in interviews with the authors.


As a teenager, says Don, he, like many of us, was encouraged and sometimes forced to read books that were unsuited for his age. "It took several years before I realized that it wasn't Hemingway's fault that I didn't enjoy The Old Man and the Sea," he says. "I just wasn't ready for that book in 10th grade. That novel, like almost everything we were taught in high school, had not been written for teenagers. Good young adult books deal honestly and openly with teenage issues and problems."


The best novels for teens, he believes, are well written, yet less complex than the famous classics; Carolyn Coman's Many Stones and David Klass' You Don't Know Me are among his recent favorites. Short stories, too, are successful at addressing popular themes such as multiculturalism and character development. Don has edited several volumes of such works written by the great names in young adult literature. His latest publication, On the Fringe, was prompted by the shootings at Columbine High School. "It focuses on teenagers who are not part of the mainstream in their schools--the geeky, freaky kids who may be too quiet, too fat, too smart, too weird-looking, gay, from the wrong side of town, whatever."


Don knows about teenagers. Besides raising two of his own, he spent years in classrooms, observing firsthand what young people were reading. He retired in 1997 after 24 years at Central Connecticut State University, and today lives in Solon, Ohio, running his website and teaching occasional workshops.


With a bachelor's degree in English from Hope College, a master's degree in teaching from Oberlin, and a PhD in English education from Syracuse, Don certainly has the pulse of the teenager, hoping to provide young readers with safe places to confront their struggles. "I respect kids," he says, "and their ability to deal with real life."


--Andi Cumbo