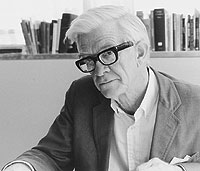 Andrew Hoover

1909-2001


Andrew Hoover was born in 1909 in Nicholsville, Kentucky. His father, a lawyer and judge, had a large family and a large farm to raise them on, so Andy grew up in a world of ponies, horses, gardens, and eventful visits to the courthouse to watch his father in action. He took his BA at the University of Kentucky, where he acted happily in plays and graduated in 1932. A life in the theater was not a good prospect in the heart of the Great Depression, so he entered graduate school at Yale to study for a PhD in literature. This was completed in 1939, Andy having participated in what is still affectionately known as "The Walpole Factory," editing Volume XV of Walpole's correspondence, the letters to Sir David Dalrymple. While finishing up, he took a teaching job at Clark University for four years, then joined the Oberlin faculty in 1940. Chauncey Brewster Tinker's letter of recommendation to Archibald Jelliffe, then chair of the Department of English at Oberlin, evokes the candidate deftly, while also reflecting the style in which these things were done in those bygone days: "He is a native of Kentucky, and, in my opinion, as fine a gentleman as one would care to meet."

The fine gentleman was scarcely settled here before being called away to serve in India and China during World War II, but he found time, in and around that service, to marry Marjorie Lawson, a young scholar-teacher in the German Department, and to father his first son, John, born in 1944. Jamie, their second child, was born in 1947. The Army apparently recognized his acting talents, for he wound up in a traveling entertainment unit that put on shows of various kinds in very remote places where troops were stationed.
After the war the Hoovers were part of a circle of bright young faculty who enjoyed parties and dinners and made the Oberlin social scene a good deal livelier than it might otherwise have been. And Andy, having done his duties to the profession by publishing the Walpole volume and some articles on James Boswell that appeared in the early 50s, settled into his true vocation, that of teaching. He would continue to publish reviews from time to time, but in his view it was not that important to add to the growing mounds of critical commentary surrounding the English and American canon; what was a calling, and a powerful one, was to find ways to teach successfully, to generations of interested Oberlin undergraduates through the 50s, 60s and 70s, the great writers of high modernism. Henry James, William Faulkner, James Joyce, D.H. Lawrence, E.M. Forster, Virginia Woolf, and Katherine Mansfield all came to life in his classrooms. W.B. Yeats, T.S. Eliot, Ezra Pound, W.H. Auden, Dylan Thomas, Wallace Stevens, and Marianne Moore were carefully explored and sensitively explicated. The difficult modernist classics were his particular classroom enthusiasm, and he brought students to an acquaintance with them, patiently, steadily, and with an inspiration that somehow combined his Kentucky graciousness and charm with the famous Yale penchant for close reading and rigorous criticism. Former students recall how movingly Hoover could read the modernists aloud in his classes, and how thoughtfully he encouraged them to write memorable papers on these difficult texts. You could feel both challenged and comforted, reading The Waste Land or The Golden Bowl with Andrew Hoover: challenged by the attention and thought these works would demand of you, and comforted to know you were perusing them under such capable guidance.
This teaching excellence was recognized, to give one example, by his being chosen to host two NDEA summer seminars for high school teachers at Oberlin. I was privileged to teach with him in those summer courses, which occurred in 1965 and 1966, and they constituted, I now realize, a mentoring experience that helped shape my own classroom skills and values. Andy was an extraordinarily generous colleague, who would share books, stories, jokes, enthusiasms, and the occasional sharp-tongued comment about colleagues, committees, and critics that were not quite up to his standards.

The cultural rewards he enjoyed, after his 1976 retirement, living in Manhattan, seemed like a fitting prize for all that devoted teaching. Whenever I visited them throughout the 80s and 90s the Hoovers turned out to have seen the best plays, operas, dance, and musical events; had been to all the new museum and gallery exhibitions; and had discovered the best restaurants in Greenwich Village. They also followed their amazing routine of biking, swimming, library research, and volunteer work, just as if the city had been created as their own particular Garden of Eden. Only failing eyesight and the onset of Alzheimer's disease, coupled with his loss of Marjorie, could take Andy away from all that. The time between his having to leave his New York apartment and his death this past December, at the age of 91, in an Alzheimer's facility near his son John, was mercifully short.

It is part of the fickle fortunes of Academia that some of us are better remembered than others. We have, for example, commemorated Ellen Johnson's great love of modern art in various ways. And we are right to do that. Surely, too, we should not forget the contribution to our understanding of modern literature that her good friend, Andrew Graham Hoover, made to this institution over his many years of excellent teaching.