The Value of Vivaldi
by Christopher James Joyce '87

An OC education pays off for this reality TV "expert"

As I looked at my wife Katy and 18-month-old daughter Madison sitting across from me in the limousine, I realized that my 15 minutes of fame had arrived. I was about to tape the "Sally Show" as an expert on reality TV. I had just won big on NBC's reality game show, the "Weakest Link," and that alone had propelled me to "expert" status.


I've always thought game shows were lame, and that the recent spate of reality TV was a ploy by producers to keep actors waiting tables. I have been a working actor (practically an oxymoron) since I graduated from Oberlin, and I realized the best way to create work was to appear on a game show or on reality TV. (I didn't submit a tape for "Survivor III," however, as I get cranky when I'm hungry, and I don't like the sun.)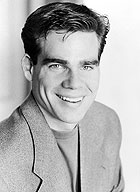 My endeavor began in a most unexpected way. I was working as a background performer (the euphemism for an extra) on a feature film, when a fellow actor mentioned that NBC was auditioning contestants for a new game show. I chose to audition on March 18, hoping that most New Yorkers would be sleeping off St. Patrick's Day festivities.

They took us in, 50 at a time, and I revealed my life's story on a single sheet of paper. I tried to make my interesting life even more so by using my Winter Term projects--with a congressman on Capitol Hill and a criminal defense attorney in San Francisco--as bait. In retrospect, I think I revealed more to NBC than I had to the Immigration and Naturalization Service when my wife applied for her green card. The INS never asked what I would do with a million dollars, nor would I have told them if they had.

Next, the trivia test--15 frightening blank lines. Each general knowledge question was read twice. We were not allowed to ask for clarifications, nor could we change our answers. Like trying to play Scrabble with most of the Es missing.

I answered enough questions correctly to make it to the screen test phase. I knew my Oberlin education would pay off some day, but I never realized an answer on my Music History 101 final would lead to a national television appearance. Which composer was known as the Red Priest? The screen test revealed the acerbic tone of the game. It was a bit like being put in front of a firing squad, except that you lived to walk away.

The "Weakest Link" is "Millionaire" with a "Survivor" twist. The game starts with eight contestants and, at the end of each trivia round, one team member is eliminated by vote. The idea is to vote off the weakest link, but in reality it's a blessing to be booted early and spared the barbs of the wicked-witch-of-game-show-hosts, British journalist Anne Robinson.

We had been encouraged to spar with Anne, and I took them at their word. Early in the game, Anne turned to me and asked, "Are you intimidated by British women?"
I quickly replied, "No, I'm married to one."
Go to Page [1] [2] of The Last Word