Round Robin Takes Flight

WHEN THE LETTERS ARRIVE, LOOK OUT.
THESE WOMEN HAVE CATCHING UP TO DO.
* BY KELLY VIANCOURT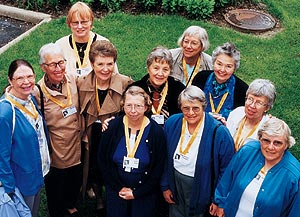 "I DON'T REMEMBER DIGGING UP OUR MEMORY BOX," said Joann Elder to the 70ish-year-old women gathered on the lawn of Fairchild House on May 26. "Do you think it's still buried there?" she asked, gazing toward the southwest corner of their former home.

Had a shovel been handy, no doubt some among this spirited bunch would have tried to find out. Each of the 11 women, plus three others, has enjoyed 50 adventuresome post-Oberlin years. Admirable feats among this group abound: a Fulbright grant to New Zealand, families raised in Third-World countries, mountain climbing lessons at age 45, and dozens of trips around the globe. And because of a half-century-old promise these women made to stay connected, each has enjoyed an annual chronicle of their lives' events.
THREE-CENT STAMPS
THEY ARRIVED IN OBERLIN IN SEPTEMBER 1947 from hometowns in India, Turkey, and across the United States, drawn to the liberal arts, small-town atmosphere, and lack of Greek societies. By senior year, the women were third-floor residents of newly remodeled Fairchild House. Five were engaged to Oberlin men, and a sixth had left the College after marrying her Oberlin fiancé mid-year. Despite their divergent post-commencement plans, the classmates promised to stay in touch.

That summer, the first Round Robin letter was launched and began a 50-year annual trek around the world. Its guidelines were simple: add your own letter (keeping it to a page or two) and send it to the next Obie within three weeks. The "Robins," who all were married in their 20s and certified to teach, shared milestones and everyday details concerning their careers, families, health, and travels. Photos, newspaper articles, and family trees were often attached. The letters disappeared a few times--once over Australia's Tasman Sea--and had to be restarted.
"When I added my name to that list in Fairchild, I never dreamed that we could keep a letter going for so long," said Peggy Goodyear, who has lived most of her life abroad and whose New Zealand home has been a popular destination for vacationing Obies. She was among the group who returned in May for their 50th class reunion. As the women posed for photographs, they laughed at the memories of their Fairchild days: a new TV set, after-dinner bridge games, a "forbidden" popcorn popper, extinguishing trashcan fires, and the near loss of Debby Nicholls' opal engagement ring down the sink. No one remembered unearthing the box of mementos they had buried their senior year.

Correspondence from decades ago remains among the most memorable for Robins today: the two years Elder lived with her children in a North Indian village tent while her husband Joe '51 conducted doctoral research. Goodyear being evacuated with her three children from Egypt to Cyprus during the Six-Day War in 1967. Julie Ferreira, who, with her husband Dick '50, led adult day-hikes through the mountains of the U.S. northwest. Becky Holmes' life with her family in the Netherlands, where husband Francis '50 researched Dutch Elm disease. And more recently, the decline of Helen "Heathy" Broholm, now battling Alzheimer's Disease, and whose husband Richard writes her Robin contributions.

"At appropriate points in our history we have had discussions about how best to use old cloth diapers and the pros and cons of hormone replacement therapy," laughed Ruth Hood, who shared an excerpt from her 1979 letter: With the continued concern about oil, and nuclear energy as a viable alternative, we are thankful that we went ahead with our energy-saving home! We figure our electric bill is about one-half, thanks to our solar collectors for water and spa heating.
"Reading of the Robin" rituals are commonplace among the women, some of whom admit to taking notes or highlighting passages. "When the Round Robin arrives in my mailbox, I take care of anything that needs attention, then settle down in a comfortable chair to quickly read through the letters," said Ruth Weller. "Then later I read through each one more carefully to savor everyone's news."

In preparing for their 50th-year reunion, the Robins conducted an in-depth survey of their lives, careers, and families. Nine of the women earned advanced degrees, all worked in education, six helped support their husbands through doctoral study, and eight travel with Elderhostel. Seven of the women married Obies; the group averages 3.4 children and 4.2 grandchildren per family.

By their 25th reunion, two of the original Robins had passed away--Joan Schenck Johnson in a car accident, and Dorothy Danielson Shaw of breast cancer. Two more Fairchild women joined the Robin later. And although several of the alumnae have seen each other over the years, the Robins met in Put-In-Bay, Ohio, before reunion weekend for their first official gathering. "These girls didn't stop talking for five minutes," laughed one of the spouses. "But that was okay--we husbands got along well, too."

The 1951 Obies are among several such Round Robin groups at Oberlin, and they have little interest in taking their correspondence high-tech. The women prefer to wait out the annual cycle instead of converting the Robin to email, even though most in the group use it regularly. "Email certainly has its place, but there is nothing like a good old-fashioned letter," said Weller. "It's a dying art, but it is a great way to communicate. It's wonderful to hold a letter in your hand, read it, and re-read it another day."

As for that memory box, no one knows for sure if it still lies in the corner of the Fairchild lot. At their next reunion, these Robins can swoop into the earth and find out. *