Spiritual Connections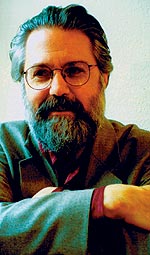 While researching a novel about the Civil War
, writer Andrew Ward '68 came upon the memoirs of a former slave who claimed, among other things, to have been a member of the choir that became the Fisk Jubilee Singers. The Singers were freedmen and former slaves who set out from Nashville, Tennessee, in 1872 to save their fledgling Fisk University from bankruptcy. Eventually they would introduce vast audiences to the music of black America by singing the spirituals of their slave forebears.

Moved by the courage and contribution of the Jubilees, Andrew set out to propose a documentary for WGBH's "American Experience" and to write a book about the Jubilees. The results--Sacrifice and Glory and Dark Midnight When I Rise--debuted in May 2000. This past March, Dark Midnight received the Christopher Award, given by the Christophers for books "that truly educate and inspire audiences and celebrate the power of the individual to enhance our vision of the world."

Andrew's family has been intimately connected to Oberlin for nearly a century, beginning with his grandfather, professor of art Clarence Ward. "I have the distinction of being the only member of the family to flunk out," says Andrew, "but Oberlin keeps popping up everywhere I turn." In this case, Andrew learned that Fisk University was staffed and supported almost entirely by Oberlin divinity students. "They were too radical to find pulpits in regular churches," he learned, "so they opted instead for missionary work among the freedmen."

Among these were Adam Knight Spence and Erastus Milo Cravath, Fisk's first presidents; Latin professor Helen Clarissa Morgan; and many of Fisk's sponsors, including George Whipple of the American Missionary Association. Their struggles, as well as the Jubilees', run through page after page of Dark Midnight.

Ward's most extraordinary Oberlin encounter came with the discovery that it was at Oberlin itself, on November 16, 1871, that the Jubilees first succeeded in capturing the imagination of American churchmen. They sang "Steal Away" to a convention of Congregational ministers who then relayed the bedraggled troupe eastward from church to church until they finally reached New York and created an 'overnight' sensation.

"What makes this remarkable to me," says Andrew, "is the fact that as an Oberlin freshman I used to sing folk songs, and often carted my guitar over to my grandfather's house on East College Street, where he used to request his favorite spiritual, 'Steal Away.' When Grandpa died in 1973, long before I had ever heard of the Jubilees, my grandmother asked me to sing it at his memorial service at First Church. It didn't hit me until I was watching my own documentary that I had sung the same hymn from the same choir loft of the same church in which the Jubilees first performed it over a hundred years before."
Go to Page [1] [2] of Profile