A Tree of Crimson and Gold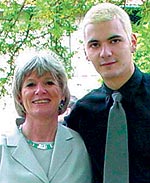 When Aaron Dawson reached
for his diploma on May 28, he became the most recent branch on a family tree that documents 73 Oberlin alumni spanning five generations. Aaron's mother,
Margaret (Peg) Metcalf Dawson '72
met his father,
Steven Dawson
, during their freshman year in Dascomb's dining hall. Although Steve later transferred to the University of New Hampshire ("Ohio was too flat"), the couple stuck it out and married two weeks after Commencement. Their Obie ties are so far flung, says Peg, because her grandfather was among 12 siblings to attend Oberlin in the 1800s, nine of whom married other Obies.

"I remember my grandfather remarking that it was difficult to spend time with a girl because the college rules tended to separate the sexes," she says. "He wrote in his memoirs that campus walks between men and women consisted of long parallel boards, two in each direction, each about 18 inches across and a foot apart to prevent 'undue intimacy.' That's a far cry from my experience in the early '70s when coed dorms were introduced!"

Peg suspects that Aaron is actually Obie number 87, although she can't document the missing 14. Aaron's oldest living relatives are Sarah Hosford Metcalf '33 and John and Julia Seiberling Shaw, both '47, all of whom who live at Kendal at Oberlin.

As an eighth-grader, Aaron tagged along for his mom's 20th class reunion and said that Oberlin "just felt right, even then. Once I got to Oberlin, the legacy was a hindrance at first. I felt that it was only the family name that got me into college. I worked hard to prove that I could measure up, and the hard work has paid off."

A politics major who studied at Goldsmith College his junior year, Aaron hopes to return to Oberlin this fall and work for the city's Community Services Center. Eventually, he says, he'd like to work and travel in Central America. Mom, meanwhile, who remembers well her own Commencement with speaker/singer Pete Seeger, will remain in Portsmouth, New Hampshire, where she is a psychologist for children and adults with learning and attention disorders.
Go to Page [1] [2] of Profile