---
---
Bardwell House
181 East Lorain, 1846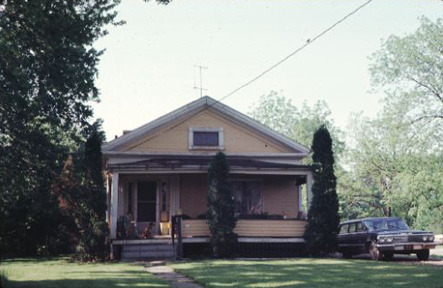 This little Greek Revival cottage, dating from 1846, merits community attention both on historical and architectural grounds. It is a rare example of a place for which good evidence exists of its use for harboring fugitive slaves. Its survival over the past century has been a near thing.
The front porch and picture window, twentieth-century additions, obscure the nice lines of its pediment and side-lighted doorway. It was built on the northeast corner of East Lorain and Park (then Water) for Rev. John Payne Bardwell and his wife Cornelia, whose careers embodied much of what the early Oberlin was about.
Upstate New Yorkers by birth, the Bardwells came to Oberlin in 1838. Both studied at the college through the early 1840s. John Bardwell was ordained as a Congressional minister in 1843 and became the agent for missionary efforts among the Chippewa Indians of Minnesota. He spent much time in the 1850s travelling and raising money for that cause. Meanwhile Cornelia Bardwell raised children and kept student boarders at the Oberlin home.
Her 1894 obituary tells of her hiding black fugitives in her attic during antebellum days. This account lends special interest to the structural arrangements under the eaves of the house, where sliding panels behind closet walls opened into wide dark passageways. The evidence is not clinching, but written and physical details combine with the Bardwells' character to make it a credible tale -- firmer than most one hears about Oberlin's underground rail network.
After the Civil War, John Bardwell went south to organize schools for black freedmen. In the spring of 1866 he was seized and beaten by a former slave owner, backed by a white mob, in Grenada, Mississippi. Returning to his work among the Chippewa, he died at Red Lake, Minnesota in 1871.
After his widow's death 23 years later, the Bardwell home stood empty for years. Neighborhood children played in its legendary secret spaces and called it a haunted house. In the early 1920s it was moved to its present location to make way for a corner grocery (now a coin laundry). Renovated for a rental property in 1981, it still awaits full restoration.
(Blodgett 60-61)
---

Click here to return to the main page of "Historic Preservation in Oberlin".
---
---