---
---
Teachout House
169 North Pleasant, 1867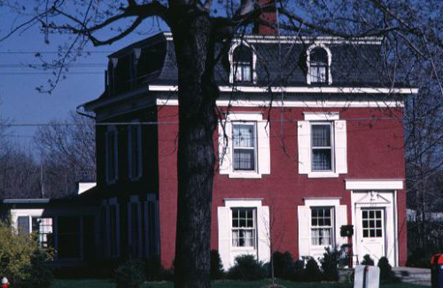 Brick mason Marvin Teachout, who arrived in Oberlin during the Civil War, brought a touch of urban cosmopolitanism to the village when he built this red brick mansard house in 1867. The mansard style was imported from France just before the war and swept the country in the postwar decade. Its elegance, order, and bulk appealed to a nation tired of war and eager for the ornaments of peace and prosperity. The fashion was especially popular in urban America, where cramped land space gave value to the extra attic rooms tucked under the steep pitch of the mansard roof. The mansard craze of the 1960s, widely favored among condominium and commercial strip developers, rolled through just a century after the first wave.
The Teachout family lived in this house until 1904. Renovated in 1963 by contractor Kenny Clark with advice from architect William B. Durand, it is the older of two surviving nineteenth-century brick mansard homes in Oberlin.
(Blodgett 103)
---

Click here to return to the main page of "Historic Preservation in Oberlin".
---
---