---
---
Peters Hall
50 North Professor, 1885-7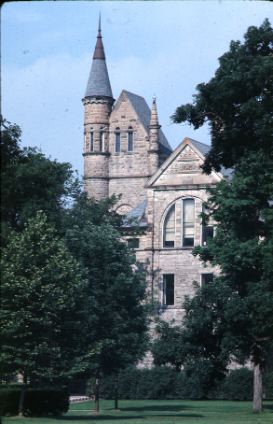 A massive stronghold of rough-hewn buff Amherst sandstone, ashlar darkened by age, Peters Hall is the oldest survivor of the spectacular building program which inaugurated the college's stone age in the 1880s. It was the most strident local offering from the Akron architectural shop of Frank Weary and George Kramer, whose stationery called them "specialists in court house, jail and prison architecture." Today the building's appearance is politely labelled Richardsonian Romanesque, and is an acquired taste. Weary and Kramer described it as approximately Gothic, "somehwat domesticated and Americanized," and they were enormously proud of it. "Perfection in this world is acknowledged to be impossible," Weary wrote, "But in the case of your Recitation Hall we feel that we have approached nearer to it than is usual in the history of architectural development." Oberlin shared in the pride. General Jacob D. Cox announced when the cornerstone was laid in July 1885 that Peters marked the end of the era "When beauty in architecture was considered antagonistic to earnest work and good instruction." While some people in later years came to wonder if Peters clinched that precise point, the new hall did assert the post-Civil War architectural virtues of organic stability and bulk.
Money for the building came from Captain Alva Bradley, a Cleveland steamship owner, and a Michigan timber king named Richard Peters, a one-time Oberlin student. It was the first campus building to be equipped with a modern forced-air heating and ventilation system. This made possible its finest interior feature -- the big, airy space of the central court. Dressed in red oak oiled woodwork, flooded with afternoon sun, Peters Court became the main campus meeting place for generations of students on their way to class. The place gathered many local memories -- from those who warmed their hands over the open fireplace through the 1920s, to the bobby-sox dancers of the 1940s, to the antiwar rally organizers of the 1960s. Today the building mainly houses administrative functions spilling over from its neighbor tucked in just to the north.
For over 70 years now, Peters has weathered the desire of influential college planners to tear it down. Gazing at its sturdy dark outline when the moon is up, one suspects it will outlast us all.
(Blodgett 3-4)
For information about Peters Hall within the context of Oberlin College architecture, please click here.
---

Click here to return to the main page of "Historic Preservation in Oberlin".
---
---