IN THE LOCKERROOM WITH...Jordan "Bundy" Kaltman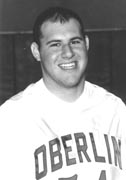 (photo courtesy of S.I.D, Jeff Miller)
Jordan "Bundy" Kaltman
Jordan, is it hard being a Jew on Christmas?
JK: Yeah. It's pretty lonely. [first-year] Ben [Alswhick], myself and the rest of the J.H.'s will hang out.
Who are the "J.H.'s"?
JK: The Jewish hunks.
Do you watch South Park?
JK: I feel for Kyle's character. I would hang out with him.
What Christmas gifts are you buying for friends this year?
JK: Christmas gifts? Well I guess I would give [junior Bob] Montag the gift of being a ladies' man. And I would give [sophomore] Jon MacDonald a few extra hundred pounds.
How did you get the nickname "Bundy?"
JK: Mo [senior Maurice Elrod] would see me watching Married With Children and just started calling me Bundy.
What are you going to do with all of your hair after it falls out?
JK: I think I'm going to collect it in a bag and give it to [junior] Ric Pierce.
Ric needs it?
JK: Yup.
If you had one year of eligibility left would you transfer to Swarthmore?
JK: Yes, to the phantom football program that they have.
Uh, so what are you doing after graduation?
JK: I'm still kind of undecided, but I'm thinking about going to grad school for geology.
How would you feel if ResLife made Zeke co-ed?
JK: If they do, they better beware of the consequences.
What do you mean?
JK: It's a secret.
What are your thoughts on the recent Cleveland Scene article on the football team?
JK: Well I think it was better than any article [Review Co-Editor in Chief] Nick Stillman can write.
Ug.
---
This Week's Events
Women's Basketball

Friday and Saturday, Dec. 29 and 30 Lady Crimson Christmas Tournament, TBA
Wednesday, Jan. 10 vs. Allegheny, 7:30 p.m.
Wednesday, Jan 17 vs. Kenyon, 7:30 p.m
Tuesday, Jan. 30 vs. Denison, 7:30 p.m.
Friday, Feb. 2 vs. Wooster, 7:30 p.m.

Men's Basketball

Friday, Jan. 19 vs. John Carroll, 6 p.m.
Saturday, Jan. 6 vs. Kenyon, TBA
Wednesday, Jan. 17 vs. Denison, TBA
Wednesday, Jan. 31 vs. Allegheny, TBA
Saturday, Feb. 3 vs. Ohio Wesleyan, TBA
Wednesday, Feb. 7 vs. Hiram, TBA

Swimming and Diving

Friday, Jan. 19 vs. John Carroll University, 6 p.m.
---
What are they talking about?
This week...
Icing
Sport: Ice Hockey

What it means: When a player hits the puck from his own defensive zone across the opposition's goal line and it is played by a player of the opposing team other than the goalie. The Plague plays with a modified rule called "no touchback" where the opposing player doesn't have to actually touch the puck. A miscalling of this modified rule resulted in a goal in Saturday's game against Baldwin-Wallace.

Back // Sports Contents \\ Next
---
T H E O B E R L I N R E V I E W
---
Copyright © 2000, The Oberlin Review.
Volume 129, Number 12, December 15, 2000


Contact us with your comments and suggestions.