ONE WEEK IN MANHATTAN... continued

On the West Side Highway, a dozen people stood in front of a huge stack of cases of bottled water and Gatorade. Whenever police or rescue workers drove by, people walked into the street and waved the bottles in the air, offering them to the passengers.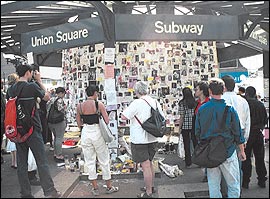 Nearby was a line of 40 ambulances, each staffed with emergency medical technicians. Like the lines of cabs waiting their turns at airports, these ambulances were on call to help at the rescue site, just in case victims were discovered.

The ambulances stood still.

A few blocks north, a small group of people held a cardboard sign saying THANK YOU and cheered passing rescue workers. At Chelsea Piers, massage therapists had set up massage chairs for all involved in the rescue work. People swarmed outside the entrance, hoping to volunteer. "We're a bit overloaded at the moment," a staff person said. A nearby sign read BLOOD MAY BE NEEDED IN 6-8 WEEKS.

THURSDAY NIGHT
The wedding of my friends Seth and Courtney had been scheduled for the Saturday following the attacks. They decided to proceed with the event, even though none of Seth's family would be able to fly in from Chicago. Seth also went ahead with his bachelor's party, but he replaced the planned debauchery with a quiet dinner. Seth needed an evening with friends. He worked in the financial district and had been walking to work on Tuesday when he saw the second plane crash just a few blocks in front of him.

There were many moments of light banter, but the tragedy and its ramifications kept intruding into the conversation. Nobody had friends who had died, but several knew people whose friends were still missing. Seth didn't know when he'd return to work--or where.

After a few hours of intoxicants, we decided to move the celebration of Seth's impending descent into matrimony. It was impossible to escape reminders of the tragedy. TV sets in every bar, restaurant, and pool parlor were turned to stations reporting the news. We decided to retreat to a more traditional bachelor's party venue, a midtown strip joint. Women stripped on stage, and men solicited individual dances on their laps. It was business as usual.

One of the men in our group recognized a stripper whom he knew socially. She finished her lap dance with a customer, then sat and told us of a friend's father who had worked in the towers and was presumed dead.

FRIDAY
Amy and I live two blocks from a monument in Riverside Park erected in 1912 to honor "The Heroic Dead of the Fire Department." On Friday evening, a thousand people from the neighborhood gathered with candles for an ad-hoc memorial service. In front of the monument, people had placed flowers and sympathy cards. One child had contributed his Ernie doll; another gave the Little Engine That Could.

We said the Lord's Prayer and sang "America the Beautiful," "Amazing Grace," and "We Shall Overcome." The captain of the local firehouse thanked us and told us that the members of his station had been lucky; nobody had perished on Tuesday morning. When he finished speaking, someone yelled, "Candles up!" Everyone raised their flames.

Not knowing what to do next, someone suggested that the group walk to the station. On Broadway, a police officer saw our procession and stopped traffic for us. The firemen at the station looked completely unprepared for the crowd that approached them. We gathered around the entrance and sang "America the Beautiful" again. Then we stood silently, our candles held high in the air.

Once again, nobody knew what to do next.

Then one man went up to shake the firemen's hands. Then another. And another. Men and women hugged them. People and children thanked them. An earnest-looking, Hispanic fireman in his 20s named Robert looked close to tears after his 20th handshake and hug. "This is overwhelming," he said.

"We're so proud of you," a woman replied.

"It's hard to talk about," he said, "because I still have friends out there, friends who won't come home tonight."

Robert was one of the men trying to put out the fires at the World Trade Center. "I was trapped for awhile, but I was able to get out," he said simply. "I'm holding up."

Robert was also in the Marine Reserves. "Down deep, I just want to go over there and get something done," he said. "Hopefully, I'll go over there."

A shy little boy named Brandon was brought over by his mother to shake one of the firemen's hands. Brandon wore a fireman outfit and a toy helmet. "Do you want a picture on the truck?" the fireman offered. Brandon nodded and was lifted up for a photograph. Someone noted how new and shiny the fire engine looked. It was a replacement, the man said. When the group was working on Tuesday, the station's fire engine had been completely destroyed.

"What do you need?" a woman asked the chief.

"We've got tons of stuff," he replied. "You wouldn't believe it."

"Anything?" the woman asked, almost pleading.

"We got everything," he replied. "Just your prayers."