Despite increased interest in the role of race in Western culture, scholars have neglected much of the 19th- and 20th-century work produced by black intellectuals. Keita examines the controversial legacy of writing history in America and offers a fresh perspective on the challenge of building new historiographies and epistemologies. He is associate professor of history and director of Africana studies at Villanova University.
The Art of Innovation
By Tom Kelley '77
Doubleday, 2001
A behind-the-scenes look at IDEO, the Silicon Valley-based design firm that produced cutting-edge products such as the Apple mouse, Polaroid's I-Zone instant camera, and the Palm Pilot. Using entertaining anecdotes of the firm's successes and failures, Kelley reveals the strategies and secrets IDEO uses to turn out hit after hit and provides the reader with the insights and tools to follow suit. Kelley is general manager of IDEO.
Human Trials: Scientists, Investors, and Patients in the Quest for a Cure
By Susan Quinn '62
Perseus Publishing, 2001
This is a fascinating survey of the history of immunology by a writer whose ability to put complex theories into lay terms is known to readers of her articles in The New York Times Magazine and Atlantic Monthly. Autoimmune diseases such as multiple sclerosis are considered by many doctors more devastating illnesses than brain tumors, as there is little that can reverse the
diseases. Dr. Howard Weiner at the Center for Neurological Diseases in Boston is fighting for medication that will alleviate symptoms, and Quinn follows him as he experiments with cures for his patients. Quinn lives in Brookline, Massachusetts, with her husband, Dr. Daniel H. Jacobs '59.
In Our Own Best Interest: How Defending Human Rights Benefits All Americans
By William F. Schulz '71
Beacon Press, 2001
Today, says Schulz, the U.S. is becoming less active in promoting universal human rights. He believes that our government should support human rights in more concrete and visible ways, and says that evenhanded enforcement is consistent with the highest American values and in our best interests. Schulz is executive director of Amnesty International USA and former president of the Unitarian/Universalist Association of Congregations.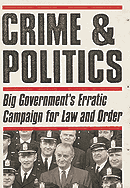 Crime and Politics: Big Government's Erratic Campaign for Law and Order
By Ted Gest '68
Oxford University Press, 2001
This is the inside story of how crime policy is formulated inside the Washington beltway and state capitols, why we've had endless cycles of ineffective federal legislation, and where reforms might lead us in the future. Gest has two decades of experience covering crime policy and the Supreme Court for U.S. News and World Report and has directed the program on crime policy and the news media at the Jerry Lee Center of Criminology at the University of Pennsylvania.
The Ties That Divide: Ethnic Politics, Foreign Policy, & International Conflict
By Stephen M. Saideman '88
Columbia University Press, 2001
Ethnic conflicts have created crises within NATO and between NATO and Russia, produced massive flows of refugees, destabilized neighboring countries, and increased the threat of nuclear war between Pakistan and India. Interventions have cost the U.S., the United Nations, and other actors billions of dollars. Saideman argues that domestic political competition compels countries to support the side of an ethnic conflict with which constituents share ethical ties. He and his wife, Katherine G. Saideman '86, live in Burke, Virginia.
The Ute Indians of Utah, Colorado, and New Mexico
By Virginia McConnell Simmons '49
University Press of Colorado, 2000
With 55 archival photographs and eight maps, this book reveals the existence of Indian farms and little-known agencies, as the author chronicles the lives of the Utes as nomads, horsemen, warriors, raiders, traders, and modern citizens coping with today's problems. Simmons is the award-winning author of 14 books and an editor for the Colorado Historical Society and Pruett Publishing Company.