Fireflies in the Dark: The Story of Friedl Dicker-Brandeis and the Children of Terezin
By Susan Goldman Rubin '59
Holiday House, 2000
In December 1942, Dicker-Brandeis, an artist, art therapist, and teacher, was forced by the Nazis to move to the Terezin concentration camp in Czechoslovakia. Once there, she used her art supplies to bring a world of fantasy to hundreds of children living in appalling conditions. This children's book, filled with photographs and reproductions of the astonishing artwork she, her colleagues, and the children produced, is a testament to hope. In 1944 Dicker-Brandeis was sent with 30 students to Auschwitz-Birkenau, where they all perished. The book has received a number of awards and honors, including Booklist's Top Ten Youth Art Books for 2000. Goldman Rubin lives in Malibu, California.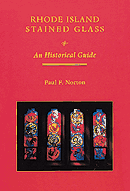 Rhode Island Stained Glass:
An Historical Guide
By Paul F. Norton '38
William L. Bauhan, 2001
Rhode Island is a museum of stained glass windows. In a churches throughout the state, 330 buildings contain magnificent windows worth seeing, some by local artisans, and others by important studios in other American cities. With its remarkable collection of color plates, the book includes descriptions of studios and designers.
By Susan B. Neuman and
David K. Dickinson '71
Providing children with the strongest possible literacy foundations in the first six years of life is a critical challenge today, and this book brings together leading authorities to pave the way. Dickinson is a senior research scientist at the Education Development Center in Newton, Massachusetts.
These essays examine Islamic women's traversal of public space and the public consequences of their private behavior. Distinguished scholars reflect on historical views of the societies of the traditional world of Islam, raising the curtain on the elaborate cultural codes of honor and the subtle changes occurring now. Afsaruddin is assistant professor in the Middle East studies program at the University of Notre Dame.
The Sense of Antirationalism
By Karen Carr '81 and Philip Ivanhoe
Seven Bridges Press, 2000
A distinct religious category emerges when comparing the philosophies of Zhuangzi, the Chinese Daoist thinker about whom stories have circulated for 2,000 years, with those of Kierkegaard, a Protestant. While acknowledging differences in their religious visions, they shared the goal of hoping to relieve the spiritual emptiness in people's lives. Carr is chair of the religious studies department at Lawrence University.
Men without Women: Masculinity and Revolution in Russian Fiction, 1917-1929
By Eliot Borenstein '88
Duke University Press, 2000
The absence and abstraction of women in such Russian works as Red Cavalry by Isaak Babel, Envy by Yuri Olesha, and Chevengur by Andrei Platonov is the subject of Borenstein's study of gender in early communist Russia. According to Borenstein, the absence of women reflects the construction of masculine values such as production, industry, and struggle that were the hallmark of the post-revolutionary era. The ideology was to fade with the advent of the Stalinist era when women, home, and family were no longer antithetical to socialism. Borenstein is assistant professor of Russian and Slavic studies at New York University.
Scholastic Science Dictionary
By Melvin Berger,
Illustrated by Hannah Bonner '78
Scholastic, 2000
This is a deftly illustrated dictionary of basic scientific terms and ideas, making it an excellent addition to an elementary school library. Bonner is an independent artist who lives and works in Medford, Massachusetts.


Web Wisdom: How to Evaluate and Create Information Quality on the Web
By Janet Edwards Alexander '68 and Marsha Ann Tate
Lawrence Erlbaum Associates, Inc., 1999
This is a reference for anyone needing to evaluate or establish information quality on the web. The book includes checklists for step-by-step quality evaluations of virtually any web page and addresses other important issues such as understanding the ways that advertising and sponsorship may affect the quality of web information. Alexander is a reference librarian and Internet trainer at Widener University.
Geology at Indiana University: 1840-2000
By Norman Gary Lane '52
Department of Geological Sciences, 2000
This is an informal, illustrated history of the study of geological sciences at Indiana University, which has trained students to become able scientists in the academy, government, and industry. The author, a professor at Indiana University, lives in Bloomington.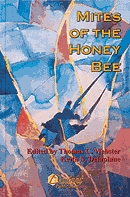 Mites of the Honey Bee
Edited by Thomas C. Webster '73 and Keith S. Delaplane
Dadant & Sons, 2001
Here is a current summary of understanding of honeybee parasites. The chapter authors are known for their work on their respective subjects. Webster is an entomologist at Kentucky State University.