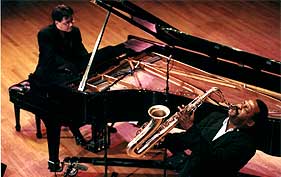 Jazz at Finney Chapel. Jon Jang and saxophonist David Murray show how it's done.
Photos by Larry Kasperak
Internationally acclaimed composer and jazz pianist Jon Jang '78 became the second recipient in February of the Alumni Association's Distinguished Achievement Award. A prolific composer, active performer, and committed labor rights and race-relations activist, Jang is a potent force within the Asian-American artistic community.
Jang discovered the piano at the relatively late age of 19 and swiftly abandoned chemical engineering to focus on his musical training. Barely two years after his first attempts at learning the instrument, he was accepted into the Conservatory, awarded the Lydia Lord Davis Scholarship, and in 1978 earned a BMus degree in piano performance.



Jang, teaching a master class for students
As a composer, Jang has received commissions from the National Endowment for the Arts, the Library of Congress, Kronos Quartet, Berkeley Repertory Theatre, Chanticleer, Kulintang Arts, and others. He composed the score for the dramatic adaptation of Maxine Hong Kingston's landmark novel, The Woman Warrior, staged at the Berkeley Repertory Theatre, the Huntington Theatre in Boston, and the Center Theatre Group in Los Angeles. Most recently, he has received patronage from the Rockefeller Foundation Multi-Arts Production Fund.
Since 1997 Jang has been recognized by the Downbeat Annual International Critics Poll three times in the composer category as a Talent Deserving Greater Recognition. In 1998, JAZZIZ named him one of the 150 musicians in the world who have changed the genre of jazz since 1983, and he was among the first musicians awarded the Golden Ring in 1995. His most recent CD, Far East Suite, recorded with the Asian American Orchestra, was nominated for a Grammy for Best Large Jazz Ensemble Performance in 1999.


Not only a performer, he taught the first Asian-American music course at the University of California, both at Berkeley and Irvine in the ethnic studies department, and he directed the advanced level jazz ensembles at Berkeley in 1997.


The annual Distinguished Achievement Award goes to the graduate who demonstrates life success that reflects Oberlin's values in career, volunteer activities, and in life generally.