| | |
| --- | --- |
| Bookshelf | Please send news of your recently published book along with a review copy, if possible, to "Bookshelf," Oberlin Alumni Magazine. Your review copy will be presented to the Oberlin College Library as a gift from you. |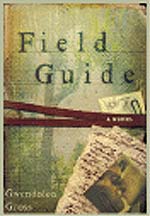 Field Guide
By Gwendolen Gross '89
Henry Holt, 2001
Reviewed by Joanna Smith Rakoff '94
Annabel Mendelssohn, the eccentric heroine of this mystery/adventure novel, wrestles with the unknowable. A scientist by trade, she's trying to understand the circumstances of her brother Robert's death by drowning--was it an accident or suicide?--as well as her own complicated and conflicted feelings about him which still govern her existence nearly two years after his death. "Robert," she thinks to herself at one point, "never really told me what he felt; I drew belief from the clues of his face, from what he said and what he didn't."


To come to terms with her fears that she possesses both Robert's genius and his madness, Annabel, at 28, leaves her Chicago lab job for a remote corner of Australia to begin "what her brother had called the real work: the field, putting her hands on life." Enrolled in a field studies MA program, Annabel becomes frustrated with dull classes; group projects; and students and professors who flirt, gossip, and break off into cliques. Her deliciously horrible roommate Sabrina, "a monster of vanity" who litters their room with "hair sprays and toxic-waste face paint," particularly upsets Annabel, playing on her insecurities about her looks and charm and her fears that she's boring and forgettable. Annabel is understandably eager to begin her solo work in the jungle: a study of spectacled fruit bats.


Against her better judgment, she develops a crush on Professor John Goode, in no small part because his genius and recklessness remind her of Robert. Separated from his wife, Goode is filled with remorse, self-loathing, and a sense of his failure as a husband and father. His 20-something son Leon, disillusioned with hard science, has dropped out of his Harvard doctoral program and found work at the Boston Museum of Science.


When Professor Goode disappears into the bush without a trace, Leon flies home to Australia to search for him. The journey eventually takes him to Annabel, now living alone in the rainforest monitoring her beloved bats. She leaves her fieldwork to accompany him, and, at first, the two cranky, headstrong researchers grate on each other's nerves, but as they travel through the parched countryside, they fall deeply in love.


Field Guide hums with a psychological intensity, leavened with lively and often acerbic wit that propels the narrative along, making this a satisfying, pleasurable, and thought-provoking novel. Even the most minor characters are constructed in complicated emotional terms. It is Annabel, however, who carries the book with her eccentricities, frustrations, and heightened self-awareness. She's a stunning, difficult character--a grown-up, 21st-century Anne of Green Gables. She's honest, lovable, and sometimes annoying, but always compelling.


The author, Gwendolyn Gross, earned an MFA from Sarah Lawrence College and lives in Ridgewood, New Jersey, with her husband, Joshua Rosenburg '89, and their 2-year-old son, Jacob. This is her first novel.