Bookshelf
Miracle at St. Anna
By James McBride '79
Riverhead Books, 2002
Reviewed by Pamela E. Brooks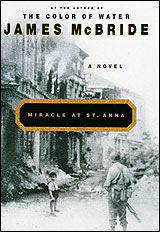 "Boy…back in the war, the Italians, they loved us! And the French…oh, la, la! We was kings over there!" As an unappreciative child listening to the painful and proud memories of his favorite uncle's World War II experiences, James McBride, author of the widely acclaimed 1996 memoir The Color of Water, didn't fully understand the importance of the stories he was hearing. However, in his compelling first work of historical fiction, McBride honors his uncle and thousands of other black veterans whose stories mirrored that same blend of pride and pain.

In Miracle at St. Anna, McBride offers another rumination on the consequences and penalties of a U.S. race war gone on too long. Black soldiers are fighting a double-edged war while deployed in the hills and valleys of Europe's bloody north Italian terrain. They find they must pay with their lives, and even the lives of their white commanders, to uphold the rules of engagement so entrenched at home. Readers of McBride's first book will be greatly rewarded with the same depth of feeling and rich story-telling technique offered by this absorbing journey into a different time and place.

Hardened like steel by the terrible conditions of our country's alleged "Good War," the men of the U.S. Army's all-black 92nd Infantry Division braved the indignities of a political and military establishment that was already convinced of an overriding Negro inferiority. McBride sets his story within the contentious conditions of the Serchio Valley, where four black soldiers are separated from their company while attempting to save the life of a severely wounded Italian boy. The group unwittingly heads into the hills of Tuscany's Apuane Alps, where German soldiers are closing in. Coming dangerously closer to a site of inevitable collision, the Americans encounter a village of wary but welcoming Italians and a small band of partisans hoping to disable the oncoming Germans. Only a miracle could save any of them from an onslaught. But miracles in war are scarce, as the ill-fated inhabitants of the village of St. Anna di Stazzema had discovered. Could the black soldiers avoid the same fate?

McBride's text is beautifully written; some of his finest prose strongly evokes an Italian history and geography both tortured and dense. Poignant and funny at times, he ably captures the anger, frustration, and biting sarcasm of the black men who were forced to take orders from white men who often hated them. McBride's band of wartime brothers, whose personalities and political persuasions still ring true in the black community, gives us a great deal to ponder in an age when heroes seem too few.
Pamela E. Brooks is an assistant professor of African American studies at Oberlin.
---
Steven Spielberg: Crazy for Movies
By Susan Goldman Rubin '59
Harry N. Abrams, 2001

Never-before-seen photos and interviews reveal the man behind the camera responsible for some of America's most imaginative, thrilling, and awe-inspiring movies. This lifelong portrait of Spielberg traces the director's life through his films, from E.T. to Saving Private Ryan. Imaginative design and documentary-style photographs offer a unique and engrossing perspective. Portions of the book's profits benefit the Survivors of the Shoah Foundation for Visual History.

There Goes the Neighborhood:
Ten Buildings People Loved to Hate
By Susan Goldman Rubin '59
Holiday House, 2001

This informative book for young people chronicles how 10 architectural eyesores—such as the Washington Monument, the Eiffel Tower, the Guggenheim, and McDonald's restaurants worldwide—became beloved symbols of cities, countries, and cultures. Rubin seasons the text with quotes and critical reactions from the public and the architects' peers. Pictures and drawings are cleverly printed in blue and white, giving the book a creative edge. Rubin has written several highly praised books for children.

Ups and Downs Around Rainier
By Nancy Lewis Catton '50
1stBooks, 2001

Based on numerous hikes of the 93-mile Wonderland Trail around Mount Rainier, Washington, this semi-fictional work describes a family's two-week camping adventure. With vivid imagery and a detailed narrative, this vicarious account is littered with useful, real-world backpacking tips and trailside anecdotes about the history of this national park. The author is married to William R. Catton '50.

Sherlock Holmes and the
Giant Rat of Sumatra
By Alan Vanneman '67
Penzler Press, 2002

This tale has the famous Holmes and Watson characters globe-hopping from England to Egypt, India, and Singapore. In their pursuit of the gigantic rat, Harat, they unravel a unique and pulse-pounding mystery that tests their brains, brawn, and instinct. A great choice for fans of the Holmes cannon, as well as those simply looking for an engrossing read. Vanneman has authored many short stories and writes for the Bright Lights Film Journal. He is working on his second Sherlock Holmes story.