The Last Word
Holding on to Our Olympic Ideals
by Tom Jordan '67
Amidst scandal and billion-dollar contracts, it's still the athletes that matter.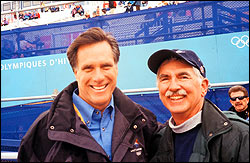 I was skiing at a resort north of Salt Lake City just days before the Winter Games began when I had my Olympic moment. During my afternoon drive home, I came across Beethoven's Fifth on the radio. As I passed downtown Salt Lake, the sun entered what movie makers call the "golden hour." The city's 13 tallest buildings were wrapped with pictures 150 feet high of athletes representing each of the winter sports. The combination of golden sunlight, banners, snow-covered mountains, and an orchestra sawing away for all it was worth choked me up. I literally found myself saying, "Wow, it's the Olympics, and they're here."
Everyone I know had a similar moment, an instant in which they realized that the Olympics were no longer an abstraction, but a whirlwind of athletes, spectators, sponsors, and journalists from 78 countries that was about to consume our lives. I am a radio wire service reporter and had been covering preparations for the Salt Lake Games for nearly five years. Journalists who had covered previous Olympics agreed on one thing: there was no way to describe how big and exciting and complicated the Games would be. They were right.
I've been a fan of the Olympics since childhood. My cousins skated at the Broadmoor in Colorado Springs in the 1950s, and I watched them perform in ice shows with medallist Hayes Allen Jenkins. But the Games have changed enormously since then. Many people consider Lake Placid's 1980 Games to be the last "simple" Olympics—events that could be held in a ski village and whose athletes knew each other. In Los Angeles four years later, the power of the Olympic "brand" was unleashed. By 2002, the Olympics were fueled by 60 sponsor corporations and countless licensees selling everything from zipper-pulls to SUVs. We had official Olympic refrigerators and toilet paper; even now, Olympic manhole covers top the sewers of Salt Lake City.
The Salt Lake Games, which racked up $1.3 billion in expenses, actually made do with the smallest per-capita operating budget since 1980. Sponsors of information technology companies laid 31,000 miles of fiber optic cable between the athletic venues—allowing for instant competition results anywhere in the world. Nearly 80,000 volunteers and employees underwent federal background checks. And roughly 14,000 journalists covered the feats of 3,500 athletes for a worldwide TV audience of 2 or 3 billion.
Two years ago, when it became apparent that the city of Athens was in hot ouzo for its lack of preparation for the massive 2004 Summer Games, I asked Marc Hodler, founder of the International Ski Federation, if the modern Games were too big and if they would survive. He replied simply, "We have $6 billion in signed contracts. We will honor those contracts." That statement sums up the future of the Olympics.

So is it worth it? The answer depends on your degree of cynicism. The billion-and-some bucks spent in Salt Lake could have relieved a lot of misery for many people, but unfortunately, the money wasn't used for those who needed help. NBC spent $400 million for television rights; no network would dream of dropping that amount of cash without some killer TV opportunities. NBC apparently profited more than $80 million from the event, so as a business plan, it was a success. There's no money in misery.

Unless, of course, the misery is the pain of a French pairs' figure skating judge proclaiming that she was pressured on how to vote, or not, or maybe. The main press room in Salt Lake, which normally held 200 people, was opened up to full ballroom size for the media shindig surrounding the pairs' controversy, and possibly a half-million reporters wedged in. The already hot ratings blazed for the rest of the Games. Why? Because we cared about Canadian pairs' skaters Jamie and David, and about third-generation Olympian Jim Shea, and about Vonetta Flowers, the first African American ever to win a winter gold medal, who cried on the podium.
For 17 days, billions of us watched a sharply defined set of black-and-white issues. In a world slogging through political and ethical fog, the Olympics are the bright sunshine of simplicity. They have rules and a beginning and ending. The 2002 controversies were fun because we could all hold an opinion: viewers around the globe became instant "experts" on how ice skater Sarah Hughes landed the gold.
The Games ended this year with International Olympic Committee President Jacques Rogge pronouncing some of the best-known lines in recent sports history: "I call upon the youth of the world to assemble in Torino, Italy, in four years for the Games of the 20th Winter Olympiad."
There have been recent scandals involving bribery, doping, and judging, but the youth of the world don't care. They don't care about the billion-dollar contracts or who's running the show. As Salt Lake Organizing Committee President Mitt Romney was fond of saying, the Games are about athletes, not suits.
Youth all over the world will still imagine themselves as future Olympians. Some of them will make it to Italy to give us another marvelous show. They need to assemble to find out who's best. We need them to assemble because we want to cheer for them. The Olympic Games renew our hope of making the planet a better place if we can just hold on to the ideals we praise every two years. l
Tom Jordan is the news bureau chief for Metro Networks in Salt Lake City and claims to throw down the best big air tricks of any Utah bureau chief.