State of The College -
Address to Oberlin's Alumni

Nancy S. Dye, President
Finney Chapel, May 26, 2002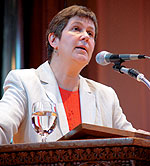 It is good to see so many alumni, parents, friends, and graduating seniors here today.

I always enjoy this chance to talk about the state of the College, and this year there is a great deal to talk about.
I don't think it will come as a surprise to anyone to hear me say that this past year has been tough. Our academic year opened just a few days before September 11. All of us found ourselves in utterly new, frightening, and unexpected circumstances. We came together as a community to help one another cope with the social and emotional aftermath of terrorism and the outburst of ethnic and religious violence that immediately followed the attacks. We have also struggled to come to terms with our own ignorance of vast stretches of the world. It is an anxious and uncertain time for all of us.
Over the past nine months our campus community has suffered the loss through death of an unusually large number of its citizens. Just weeks ago, we lost a student, Conservatory senior Leslie Roberts, a gifted young composer who died tragically and unexpectedly.
Much-beloved faculty have also died over the past academic year: Geoffrey Blodgett, member of the Oberlin Class of 1953 and professor of history; Norman Care, professor of philosophy; Elisabeth Rotermund, lecturer in German; Calvin Hernton, professor of African American studies; Jay Humeston, teacher of chamber music; Denes Koromzay, professor of chamber music and viola; and David Love, associate vice president for research and development, our chief foundation grants officer, and a longtime member of our philosophy department. We miss them.

Nor will it surprise you to learn that Oberlin, like virtually every other American college and university, public and private, is dealing with the realities of economic downturn, flat endowment performance, and the need for stringent budgeting. I will talk about these matters in more detail, but first I want to set this past year within the fuller context of the last four years. By and large, they have been extraordinarily successful for Oberlin.
In particular, I want to talk about the progress Oberlin has made on a set of strategic goals and initiatives endorsed by our Board of Trustees with much enthusiasm in the fall of 1999. I will tell you first what goals we set; then I will turn to our progress in reaching them.
First, admissions. Although Conservatory admissions have been consistently spectacular over the last decade, it is no secret that College admissions were sluggish throughout the late 1980s and much of the 1990s. As late as 1995, Oberlin was admitting almost 74 percent of our applicants. In 1999, we set what we believed to be achievable goals for significantly improving our admissions picture over a five-year period. Within the College, we wanted to attain an applicant pool of at least 5,000 high school seniors, an admit rate of 39 percent, and a yield rate of at least 33 percent. We reaffirmed our commitment to Oberlin's mission by resolving to enhance the rich diversity of Oberlin's student body, keeping it not just a microcosm of American society, but also of the world at large. In particular, we wanted to enroll more international and double-degree students and make our student financial aid fully competitive with our peer institutions.

Our second set of goals has involved improving and making more competitive our faculty salaries, which had slipped considerably over a 25-year period. In 1970, Oberlin stood first among leading liberal arts colleges in the average salaries of its faculty in each of the professorial ranks of assistant, associate, and full professor. But over the next 25 years we steadily lost ground: by the late 1980s, Oberlin was at the bottom of every professorial rank among our 16 benchmark colleges, and there we stayed until the last few years. Given the current major demographic transition under way within Oberlin's faculty, with many senior professors retiring and many positions being filled by young, new Ph.D.s, we knew we had to address this critical issue of faculty compensation.
We set our goals at moving Oberlin's salaries for assistant and associate professors into the top one-third of our 16 benchmark schools and making significant improvement in the salaries of our full professors. This was no easy matter, because we had fallen seriously behind, particularly with respect to full professors, and because we have some tough competition, including Amherst, Pomona, Swarthmore, Williams, Carleton, Grinnell, Bowdoin, Vassar, and Wesleyan, most of whom have endowments considerably larger than Oberlin's.
The third set of goals is programmatic: we want to lower the College's student-faculty ratio of 12:1 closer to 10:1, provide more small classes to first- and second-year students, and implement a new program of first-year seminars for all new students in the College and the Conservatory. To achieve these goals, the Board authorized a modest decrease in enrollment from 2,850 to 2,750 students and the creation of 10 new faculty positions throughout the College of Arts and Sciences.
And, finally, given the declining economic, educational, and social health of our larger community—Oberlin, Ohio—we set the goal of collaborating with Oberlin's government, schools, churches, businesses, and community organizations to improve the quality of life in our small northeastern Ohio town. To meet this end, the Board of Trustees authorized us to work with the town to create a community-college partnership.
I am happy to tell you that we have made very substantial progress in each of these areas over the past four years. Oberlin is a significantly stronger college today than it was several years ago, thanks in large part to our Board's commitment to investing some of the abundant recent growth of our endowment in the institution itself.