One More Thing
Can They Do the Splits, Too?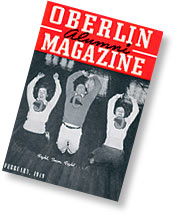 This lively trio, each a 1949 grad, formed the core of Oberlin's cheerleading squad at basketball and football games for four years straight. Today, Pat Cobb Tarnow, William "Hudd" Taggert, and Barbara Staley Bayless are considered "superstar alums" by the alumni and development offices for their volunteer and financial contributions to the College. The three alums visited campus recently, where Oberlin restaged the photo that appeared on the cover of OAM in February 1949.
Pat, a physical education major, worked briefly as an instructor at Ohio State University before marrying classmate Bob Tarnow and raising eight children. A former 1949 class president and current class agent, she lives in Chatham, Massachusetts, and Naples, Florida, where she enjoys sailing and environmental issues and volunteers as a docent at the Conservancy of Southwest Florida.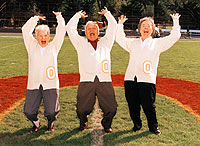 Hudd, who served as his senior class president, fulfilled his plans to earn a medical degree at Columbia University and spent 40-plus years as a physician. The current 1949 class president, he lives in Atherton, California, where he enjoys bird hunting, genealogy, and travel.
Barbara, who serves on the Alumni Council, married college sweetheart Philip Bayless '49 and briefly taught college English before raising their three daughters. Now living in Wilmington, Ohio, she volunteers on the board of Hospice of Dayton and chairs the local housing board.