Profile: Riding to the Rhythm for Zimbabwe
by Katherine Hubbard '05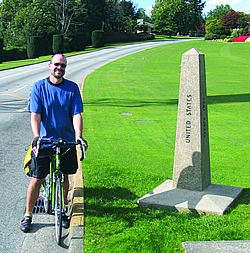 On October 30, 2004, after 40 straight days and 1,859 miles of bicycling south from Canada, Loren Mach reached the U.S./Mexican border. His muscles and feet ached from the strain and injuries of his seven–month trek along the Pacific Crest Trail, but the ride was a success, raising $23,000 to help fight poverty, starvation, and AIDS in Zimbabwe.
As a percussion performance major at Oberlin, Mach '92 was introduced to the mbira, a traditional instrument of the Shona people in southern Zimbabwe. Later, in Boulder, Colo., he became part of the Shona music community, performing in bands and teaching private lessons.
"This project, called RhythmRide, was about bridging borders," he says. "I wanted to give something back to Zimbabwe in exchange for the music and love it has provided to me." With his mbira in tow, Mach set out last April to hike the marathon footpath from Mexico to Canada, along the way performing impromptu concerts and talking about the difficulties facing Zimbabwe.
The trek was no easy task. Mach suffered a heel fracture just two weeks into the trip, and further attempts to continue hiking led to more injuries. Determined to carry on, he switched from walking the dirt trails to bicycling on paved roads. His body responded well, and he completed the ride from Canada to Mexico in seven weeks.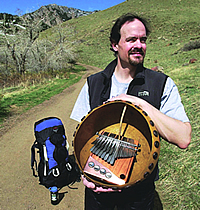 Throughout Mach's journey, family and friends offered unending support. His parents trailed him in an RV, offering supplies, hot showers, an occasional warm bed, and rides into cities for outreach and benefit performances. Close friends sent letters of support and packages to post offices along the way, while others organized benefit concerts and church performances.
The funds raised by Mach will be distributed among three nonprofits in Zimbabwe that focus on health care, improved living conditions, educational and business opportunities, and the special needs of the elderly, infants, and orphans.
Now living in Portland, Ore., Mach is working on sideshows, a documentary, and grant applications for a trip to Zimbabwe to see the non-profits in action: "Giving to others through teaching and sharing music is what's most important to me in my life."
Want more? See www.zimrhythmwalk.org.
Next Page >>