Profile: A Community of Folk
by Sue Angell '99
"So many people were and are still involved in folk music at Oberlin," says renowned folksinger Joe Hickerson '57. "It just seemed natural to get them together to share what they know about Oberlin's place in folk music history."
Before co-founding the Oberlin Folk Song Club his senior year, Hickerson was part of an informal network of students who held recurring "folk sings" and brought cutting-edge musicians such as Pete Seeger to campus.
His longtime dream of a folk conference edged closer to reality in 2002, when he connected with fellow folk aficionados Fred Starner '57, Eli Smith '04, and former Dean of Students Peter Goldsmith. The resulting three-day Folk Music Conference last October was packed with interactive lectures, instrumental and vocal workshops, concerts, and informal jam sessions, all presented and taught by Oberlin alumni.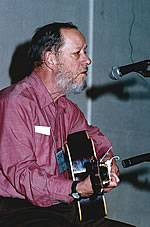 In addition to Hickerson, who has recorded three albums and wrote the third and fourth verses of Seeger's Where Have All the Flowers Gone?, alumni participants included Peter Blood '68, creator of the songbook Rise up Singing; Richard Carlin '78, executive editor for music and dance books at Routledge Publishing; singer Judy Cook '71, who tours regularly with her repertoire of old British ballads and American narratives; Mary LaMarca '78, a researcher at the National Institute of Health and a singer, ceili dancer, and folk festival manager; Brad Leftwich '75, a noted fiddler, banjo player, and singer; Caroline Paton '52, co-founder of Folk-Legacy Records; and Neil V. Rosenberg '61, a member of the bluegrass band Crooked Stovepipe.
"The turnout was fantastic," says Tom Reid '80, advisor to the Folk Music Club. "Alumni were able to meet and connect with students who share their love of folk music. I think we succeeded in creating a real sense of community."
Oberlin senior Julia Friend, who took on the task of organizing the conference when Smith graduated last May, says that creating a diverse community of music lovers was a driving force.
"When I came to Oberlin I missed the intergenerational music community I had left behind," says Friend, who grew up singing and listening to English and Appalachian ballads. "Students here are interested in traditional types of folk music, but they don't know other people who share that interest. Community is one of the most important components of a folk tradition, and intergenerational teaching is the key to keeping these traditions alive."
Want more? See www.oberlin.edu/stuorg/folkmusi/.
Next Page >>