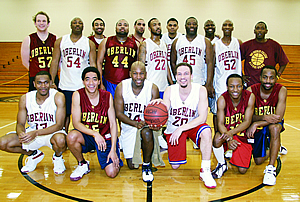 The men's basketball team hosted its annual alumni game February 12th in a contest pitting such alums as George Bundy Smith '87 and Chris Broussard '90 (both front and center) against more recent players such as Justin Perkins '03 and Julius Hill '04. The game gave former Yeoman the chance to reunite and served as an opener for Oberlin's NCAC match-up against Hiram College. Smith is a bureau reporter for ESPN in Chicago, while Broussard is a senior writer for ESPN The Magazine.


Losses: Eleanor Gould Packard '38
Master of English Prose
A well-known proofreader and copyeditor at The New Yorker, Eleanor Gould Packard spent five decades scrutinizing the language of thousands of articles. As the magazine's grammarian (a title invented for her), she was famed—and feared—for her intricate attention to vocabulary, syntax, grammar, flow, and punctuation, often challenging such respected writers as E.B. White and Wolcott Gibbs.
"Miss Gould," as she was called, graduated summa cum laude from Oberlin and set off for New York after being taught editing by New Jersey poet Aline Kilmer. She joined The New Yorker staff in 1945 and a year later married Frederick Packard, head of the fact-checking department. She remained at the magazine for 54 years before a stroke at her desk in 1999 forced her to retire. Mrs. Packard counted among her accomplishments a credit in The Elements of Style, which reads: "The co-author, E.B. White, is most grateful to Eleanor Gould Packard for her assistance in preparation of this second edition." She died February 13, 2005, at age 87, leaving a daughter.