---
---
Churches of Oberlin
---
Early in the nineteenth century Yankee farmers poured into this area, soon followed by Yankee peddlers and traders, merchants, craftsmen, teachers and ministers. Clergy trained in New England spread Yankee culture through congregations and colleges in the Western Reserve. Oberlin was one of those colleges in the New West founded on the dream of New England ministers to build here a new nation and a new world. The earliest settlers in Oberlin held religious meetings, and records tell of a sermon preached to fifty local farmers on May 19, 1833.
---
The following is a map showing the locations of Oberlin's churches.
Click on the map to enlarge it!!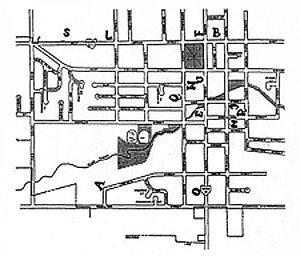 KEY
A = Christ Temple Apostolic Church, 370 Lincoln St.
B = First Baptist Church of Oberlin, 44 E. Lorain St.
C = Christian Missionary and Alliance Church, 125 S. Pleasant St.
E = Christ Episcopal Church, 162 S. Main St.
F = The First Church in Oberlin, United Church of Christ (Congregational), Main at Lorain
L = Grace Lutheran Church, 310 W. Lorain St.
M = First United Methodist Church, 45 S. Professor St.
O = Oberlin Calvary Baptist Church, 414 S. Main St.
Q = Oberlin Friends Meeting, Religious Life Center, 68 S. Professor St.
R = Rust United Methodist Church, 128 Groveland St.
S = Sacred Heart Catholic Church, 410 W. Lorain St.
U = Oberlin Unitarian Universalist Fellowship, 355 East Lorain St. [Note: The map is out of date and shows an old address.]
X = Other churches:
Z=Mt. Zion Baptist Church, 47 Locust St.
Information prepared by Mary L. VanDyke for Oberlin Historical Improvement Organization (O.H.I.O.) to be used for the conference of The Hymn Society in the U.S. & Canada; July 11-18, 1996 in Oberlin Ohio.
---

Note on the use of images:
The photographs and drawings provided by the Oberlin College Archives for the EOG website may be downloaded for educational use in the Oberlin School District classrooms. For other use of Archives photographs--including reproduction in a brochure, scholarly article or book, or other publication--please seek permission from Oberlin College Archives, 420 Mudd Center, Oberlin, Ohio, 44074. Images from the Oberlin College Archives are protected by copyright laws. For use of other images in this website, please write to the EOG webmaster.
---
---